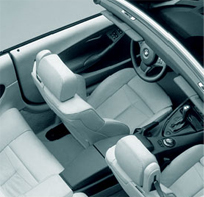 click here for more Patterns
PENSEE Leathers is a premier company in genuine and world class leather products supplies. PENSEE addresses the diversified and high quality needs of the varied range of customers. At PENSEE extra care is taken to produce the sophisticated leather products with grace and substance. Superior craftsmanship with variety of designs and colours make customers enjoy their own desired products with top quality leather. PENSEE uses genuine imported leather from Europe and North American region to meet the ever demanding customer needs.
PENSEE supplies leather products for the Automobile Interiors. Products include, seat covers, door pads, steering wheel cover, gear box cover and dash board design. PENSEE provides the flexibility for the customers to choose their products from variety of leathers, design patterns and colours. At PENSEE, Quality and Customer satisfaction is given atmost priority than the lucrative business.